Skip to content
Skip to navigation menu
Condition Monitoring Products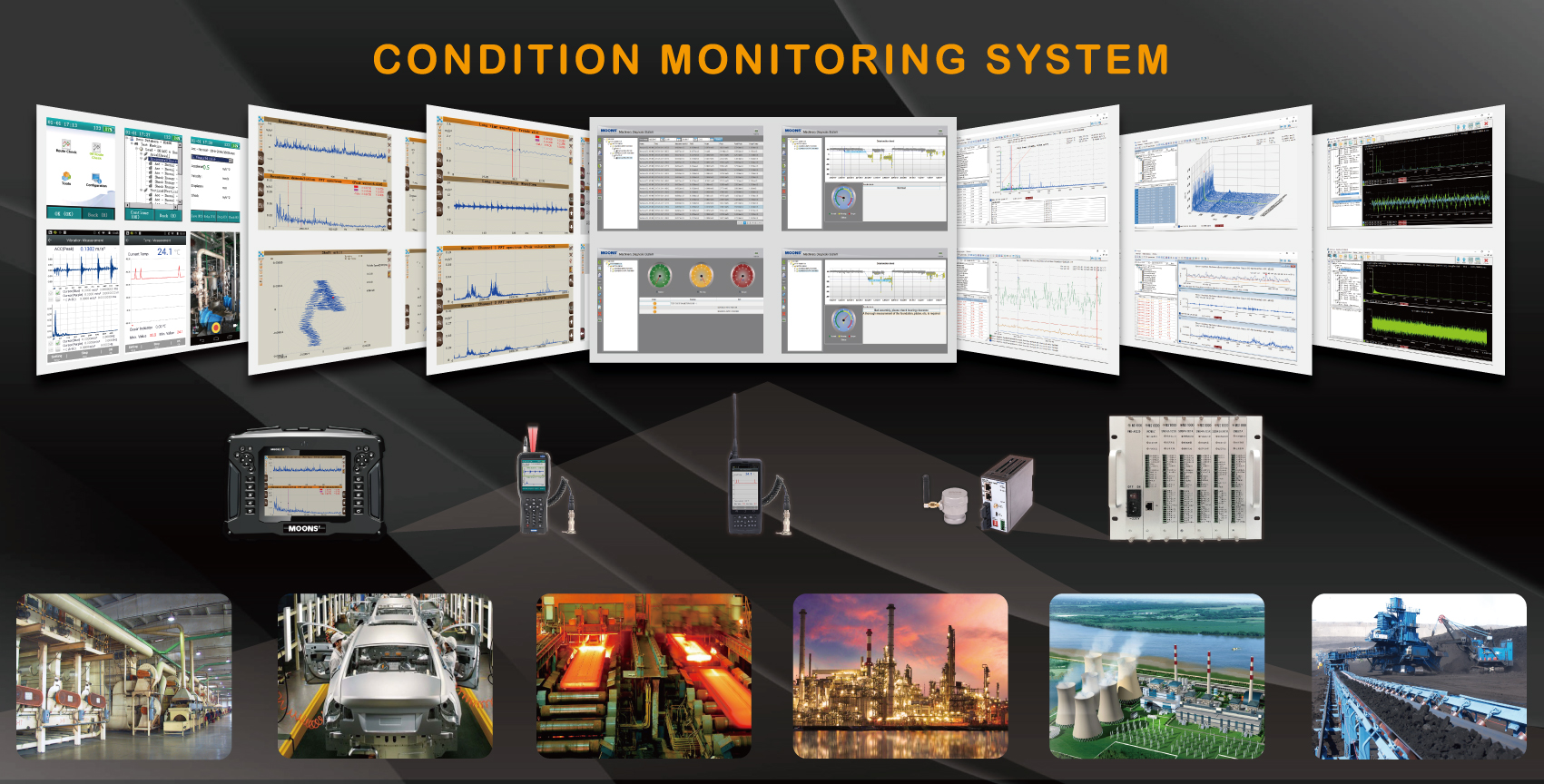 Since 2000, MOONS' has been devoted to the research of machinery condition monitoring products, and has carried out equipment diagnosis and optimized maintenance services for many enterprises, as well as more than twenty-eight top 500 enterprises in the world. We provide predictive maintenance solutions for large asset-intensive industries including power generation, petrochemical, metallurgy, coal and large scale agriculture to name a few.

Deterioration in machinery health and performance is usually associated with misalignment or imbalance, wear, and looseness, fatigue damage, fouling, or poorly lubricated parts. If vibration and temperature problems are detected early, you can diagnose problems before they become serious.

MOONS' comprehensive drive equipment reliability by using smart field devices, including flexible portable instruments and a reliable online monitoring system, provides accuracy analysis to assist personnel in optimizing equipment maintenance plans, thereby ensuring a high level of safety and profit. The aims of MOONS' are: to predict equipment failure, and improve and prolong the running life of the equipment.

Portable Inspector: The Foundation of Your Prediction Simplifies the task of vibration analysis by monitoring virtually every machine in the plant. Onboard analysis for advanced troubleshooting is available at the push of a button, providing an instantaneous machinery health assessment.

Wireless Supervisor: Keeping Connected to Your Machinery Health Connects quickly, easily, and economically to any machine. It intermittent delivers vibration and temperature information according to monitoring plane instead of both operations and maintenance personnel overtime. Thus, more accurate on machinery health trends predication.

Wired Monitor: Continuous Watching for Prolonging Critical Machine Running Time Watching critical machinery to ensure your machinery will continue to perform within acceptable specifications and can be repaired when economically convenient.
Portable Vibration Inspector
Not only vibration measuring but also multiple functional data collection are embedded in.
Portable Vibration Analyzer
Precision vibration analyzer include electrical signal measuring function to support diagnosis of rotation machinery condition.
Wireless Supervisor
Wireless IIOT vibration monitoring solution keeps connection to your machinery health.